Erica Nicole Hunt
Erica and her daughter
Bodysite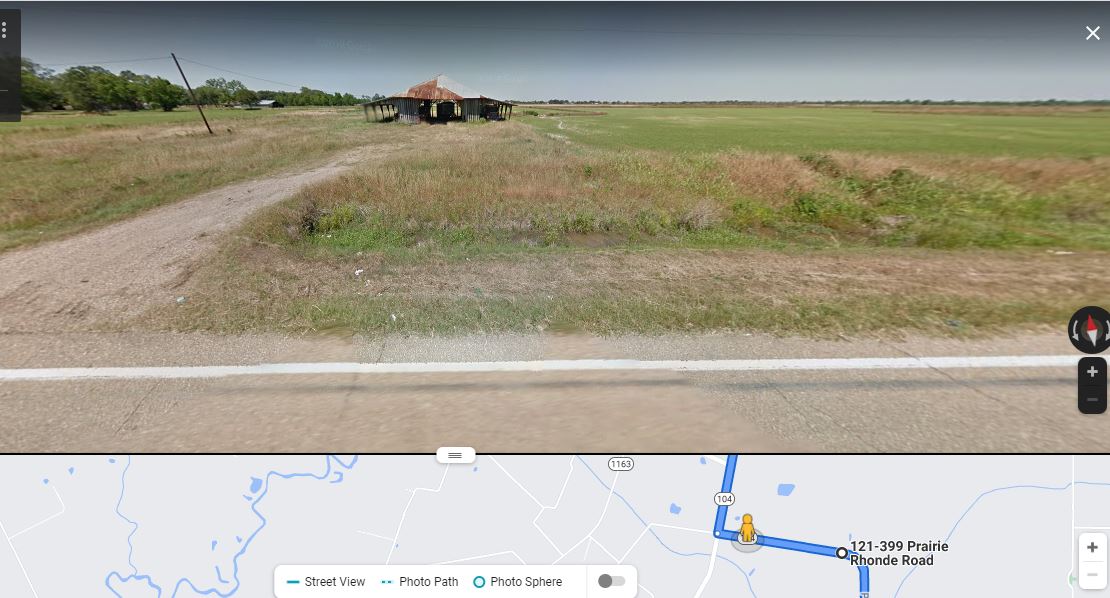 Shed from the road
Red marker is Bryon's house; gas station; shed
Sources:
DDP Donation Delafield John Doe 1977 - DNA Doe Project Cases
Bizarre twist: Old human skull, remains found in search for missing child (katc.com)
03 Jan 2019, 3 - The Eunice News at Newspapers.com
10 Jan 2019, 6 - The Ville Platte Gazette at Newspapers.com
14 Sep 2018, A2 - Daily World at Newspapers.com
30 Sep 2018, A3 - The Daily Advertiser at Newspapers.com
Mother still searches for closure, as officials find animal remains in Opelousas home (klfy.com)
Mother, sister refuse to give up search for Erica Nicole Hunt four years after she disappeared Fourth of July weekend in 2016 (nbcnews.com)
https://www.youtube.com/watch?v=wOVBx_BXiOU
Homicide investigation underway after skeletal remains found in 2018 identified as Louisiana woman Erica Nicole Hunt who vanished four years ago (nbcnews.com)
Erica Hunt's remains return to family after 2016 disappearance (klfy.com)
Bring Erica Nicole Hunt Home | Facebook
Afterward The Golden State Killer Case Changed Policing, for White Victims - The Atlantic
To submit a tip: http://www.lsp.org/help.html
Evangeline parish: what is a parish? Wikipedia: The U.S. state of Louisiana is divided into 64 parishes in the same manner that Alaska is divided into boroughs, and 48 other states are divided into counties.
Within Evangeline parish is the city - and I use that word loose - of Ville Platte? I hope I'm saying that right. It covers just 4sq mi and is home to only 7k people. Being so close to Louisiana's Cajun country, Ville Platte is, "famous for its smoked meat and swamp pop music." I love me some smoked meat. I looked up swamp pop, and it's very similar to zydeco. The best part of my 2 trips to New Orleans's to date has been the music. My god, I've never danced so much to music I didn't know until New Orleans's! It's amazing.
We find ourselves at the end of 2018. Christmas is over, and we are getting ready for the new year. This was just three years ago. So in Ville Platte, a town in Evangeline, 9yo Bryson Thibodeaux goes missing. On Friday afternoon, December 27, according to his father, he and Bryson were home, mom was out. Mom was out of the house, called home, asked about Bryson, and then dad realized Bryson wasn't in the house. Dad thinks Bryson went to let the family dogs into the house, but then he himself took off. This would be at about 12:30-1PM. Mom then called police to report Bryson missing. She said her son has left home without their knowledge multiple times in the past, and has some behavioral issues, but denies he is autistic. Later in the evening, a post is made about him running off in the town's FB group, and members decide to get together to begin a search. They meet up at the local gas station near the family home and start searching. They go throughout the night, which is Friday, and all thru Saturday and into the night. At that point, the Sheriff's Dept and the American Cajun Navy were involved in the search. By early morning Sunday, Bryson was, thankfully, located. He was safe under a bed in the neighbor's home. Which doesn't sound that safe to me. I guess the neighbors decided that after, you know, two days of searching for him, they should tell LE they have him? Yeesh. When police recover him, though, it is apparent that he is malnourished and sickly, and as it turns out, had a reason to run away from home. When police interviewed mom and dad at their home while their son was missing, they noticed that the house was in shambles. It was filthy and gross. It was so bad they knew they were going to have to look into these parents for neglecting their children. They also interviewed the Thibodeaux's other family and acquaintances and soon realized they had a full on abuse situation on their hands, and Bryson and his sister were taken from the home. Within a week of Bryson's disappearance and recovery, his parents were charged with cruelty to juveniles. And we hope Bryson and his sister are in much better care and getting the loved, care, and resources they need.
In the meantime, during the Saturday morning of the search for Bryson, volunteers are searching the area… and wouldn't you know it, we are back on a two lane road - LA route 104, to be exact - and it's sandwiched between two open fields, with brush, maybe a tree or two… you know the kind. We are 500 feet from the intersection where the gas station is around the corner, and there's this big open barn/shed building on one side of the road. It's got all this junk in it; it's pretty much an abandoned outbuilding. We've seen them driving down country roads. And I always want to stop and explore them. Anyway, volunteers are looking through this one, and according to District Attorney Trent Brignac, "One of the volunteers was looking under a shed and picked up some type of basin, and under the Basin was what looked like a rock. When they move the rock, it rolled, he saw the eye sockets and teeth and realized it wasn't a rock or an animal skull. Because there was law enforcement in the area, they were able to verify it immediately." Verify, meaning that it was a human skull. So now we get into Evangeline Parish Jane Doe 2018.
The police on the scene, who were there to help in the search for Bryson start scratching their heads. So now that he is found safe and so they can now redirect their efforts to finding out more about this mysterious skull. They are able to recover most, if not all of the remains, which is completely skeletonized at this point. Police also bring in cadaver dogs to see if maybe there are other remains they've missed, you know, in case it's some kind of serial killer's cemetery. But the dogs didn't find anything else, so it's just this one Jane or John Doe that they've got one here.
And they are going to bring in: LSU FACES, which stands for Louisiana State University Forensic Anthropology and Computer Enhancement Services. Initial DNA testing at LSU FACES found the remains to be a Cajun French/African American female. She could be 25-35yo. We are told that the body had been buried, or at least mostly buried while it decomposed, so it's thought the body could have been there since up to ten years.
And can I just tell you to look at the map. When you look at the map, you see that this outbuilding that she was in, is right off the road. I am going to post a street view picture of it on the socials so you can see how close it is to the concrete. It's also very close, like we said, to the intersection, where you turn right and hit the gas station, then eventually some spaced out residential homes, like the Thibodeaux's. When you see the map, you'll also see there are a couple buildings right at the intersection, but they are also just empty buildings. At least this point, according to google's street view.
So police have no idea where this body came from. Of course they're going to search the local missing persons reports. The list is short: they're looking for a Cajun black woman who could've been up to 45 years old by now, and who could've been missing for 10 years. None of these elements of any local missing people match up with this Jane Doe.
May of 2019, which is just when GEDmatch is shutting down the easy access law enforcement was getting to solve all theses cold cases, the LSP reached out to the DNA Doe Project to ask for their help. The DDP accepted the case, and within a month or two, they had some of the remains at the lab. It wasn't going to be easy, however. They had to test multiple samples to get a good enough DNA extraction to place in the GEDmatch system. So it wasn't until November of '19 that they had a good enough profile to be able to use from a tooth that was still in the skull of the remains.
So let's go back briefly to GEDmatch and what was going on with the database that year. By May of 2019, it had been a year since the Golden State Killer investigation produced a suspect, Joseph DeAngelo, and he was charged for his crimes. And a shit ton of people were running to GEDmatch to get themselves into the database to help future cases. The site's uploads went from like, 1500 a day to 5k a day.
And while the whole country was happy to see DeAngelo being held for his crimes, there was also a lot of talk about the moral implications of using genetics and family trees in criminal investigations. You know, privacy and all that. Which is definitely a valid concern, we private citizens, those of us who do not find ourselves on trial for crimes that will get us into CODIS… we do have a right to autonomy here. So in response to this public outcry, or maybe it was more of a whimper, in May of 2019 GEDmatch decided to set all of its user's profiles to what they called "Opt Out" concerning the access that LE could have to their DNA data. All user's would now have to go into their accounts, go to settings, find the little radio button, and "Opt In" if they wanted to be part of the pool that LE will see when they submit either a suspect profile, or the profile of a Doe. This, in my opinion, was the right thing to do. Give user's the choice. If they want in, they have to do it themselves. But overnight, the database LE was working with went from Mufasa, to baby Simba. And where was Rafiki? I guess Rafiki would be the media in this analogy… But yeah, how many people didn't know about this change? I cannot tell you how many websites I've been active on, crochet, papercrafts, MySpace lol. Remember Yahoo Answers, omg? And after a while, I'm like, meh. Moving on. So when this happens, we might get an email about changes to policy, but how likely are we to read it if we're not an active user at the time the email is sent out? So how long would it take for GEDmatch users to find out LW is now being blocked for possible matches, and then make a decision for themselves, and finally see the database grow again? Because once a user did know, how many of them didn't care enough about this change to go into their accounts to opt themselves in?
Before the automatic Opt Out, the GEDmatch application had a pool of over 1.2 million profiles to work with. But even a year after the change, in May of last year, the pool had only been built back up to 260k. Making family trees that much harder to build, and take that much more time to complete.
So when the DDP gets a profile good enough to work with to find out who the Evangeline Parish Jane Doe actually is, they have no idea if she is going to be a family member of a person to knows about GEDmatch, and they are just sitting there, just waiting for a call…. Or if they don't know, then the match list might direct the DDP to 3rd or 4th cousins. In the end, it would take about three months for Jane to get her name back, which is actually not too bad compared to other cases.
And on February 5, 2021, the Louisiana State Police announced that Evangeline Parish Jane Doe 2018 had been identified as Erica Nicole Hunt.
I've found no details about the family map investigation. There was one volunteer at the DDP that was assigned to this case, and it took her 49 working hours to zero in on Erica. It was Jenny Lecus, we know her! And we love her! She also identified the Mill Creek Shed Man and Baron County John Doe. Thank you Jenny, you are an angel on earth. Jenny tells us, "Being able to work on Erica's case and to help restore her identity to her was an absolute honor. She will never again be known as just Evangeline Parish Jane Doe; she is Erica Nicole Hunt."
Who was Erica? She was born July 10, 1995 to mother Shannon Issac. Dad is not named or referred to in the media. Erica had two sisters that she was very close to: Shantashia Isaac and Aereyon Hunt. And let me tell you about this girl, I am in love with her. She had the most infectious smile, I will post it on the socials. She has these dimples, there's something about them. You look at her and she is happy. She is with her daughter, she is with family, chilling with friends… Erica is loving whatever she is doing at that moment and you feel like you want to jump in, be right there with her, and have the kind of blast she is having. Family tells is she was outgoing, loving, and her sister described her as the "firecracker of the family." Erica had three tattoos, my kind of girl. She had her middle name on her back, and Care Bear on her shoulder, and her daughter's name on the outside of her wrist.
She had a little girl, who was just a toddler when she went missing. There is the cutest picture of her and the little one and it's captioned with a "Mini Me" and a bunch of love emojis. And from her posts on her FB page, it looks like she was still seeing her daughter's father up to at least Valentine's Day that year.
And Erica loved social media. Scrolling through her FB page, you can tell that she was in love with life and the people she surrounded herself with. Erica had three things she focused on: posting selfies and videos hanging out with friends and family, selfies with her daughter, or posting about parenthood. She even had this running joke - she would take someone's phone and snap a selfie with it. So everyone would have these random selfies of Erica on their phones, lol. I love it.
So we see that Erica was a loving and devoted mom to her little girl, and an active member of her social circle. She was very loved and cherished by the people in her life. And she knew it. Erica knew she was blessed, both by the love she received and the love she gave. Here is a quote from Erica's FB in January 2016: "People need to cherish every living person in there life for every second, minute, and hour, day, night, etc.. cause the way things going now and these days you never know when its their turn or your turn to all my family we my not see eye to eye or see each other everyday but i promise you its nobody to trade yall places I wouldn't ask for anybody different from nar one of yall to you i just wanna say I LOVE YOU!!!!!"
Six months later, Erica would go missing right before her 21st birthday. How could she have been only 12 miles away this whole time? How did she end up there? What was going on with Erica before she disappeared? Nothing really, she was living her best life from all accounts. So now we are going to go back in time to Erica's last few days with family and friends. We are going to go back to the 4th of July, 2016. 12miles away, from the eventual burial site.
On July 3 2016, Erica and her little girl attended a BBQ at her uncle's house for the holiday. This year the 4th of July was on a Monday, so everyone was celebrating the Saturday or Sunday right before it. Her sister and other family members say that Erica was in a great mood. She was happy, she was social at the BBQ… her birthday was coming up the next week, on the 10th, and Erica was going to be 21yo. Erica talked about what she wanted to do for her birthday, which, no surprise, was to go out to a club. Turning 21 is a big for most of us, right? We're not staying in that night. Erica had also mentioned getting together the next day with another young mother she knew. They were going to take the kids to the lake for some sunshine and fun. When the party started breaking up, Shannon told Erica she would keep the little one for the night and Erica could get her in the morning before going to the lake. She never came to pick up her Mini Me tho.
The next day, Erica stopped by her aunt's/sister's house, hung out for a bit, bummed some money for smokes, and then left. They told LE since she didn't have her own car, whenever she came by, she'd ask for a ride to her next destination, but this time, she didn't. So that was a little odd. And when she left, they weren't sure if she left their house on foot or if she was picked up.
That afternoon, at 12:59pm, on Independence Day, 2016, was Erica's last FB post. She tags a friend of hers to wish her a happy birthday, saying, "Excuse our hotness but screaming Happy Birthday from my bed where I can't seem to get out of to where ever she's located....Happy Birthday Kiaa Janaye let's Turn the F up"
But by July 5th, no one is hearing from Erica, and mom Shannon still has the baby. So where is she? And why isn't she answering her phone? You see, aside from Erica being a devoted mother, and not the kind to just up and leave her child, she was also in constant contact with her family and friends. Like we said before, Erica was a social media lover, sometimes even posting multiple times a day about her activities. And if her phone ever died and she didn't have a charger nearby, she'd use a friend's phone to call mom if her mom had her little girl. So not only was it odd that Erica didn't come pick up her daughter, by the time lunchtime had come and gone, and then dinnertime, the family knew something was terribly wrong.
During the initial search for Erica, police got a tip that she had been seen at Billy-Ray's Boudin, a local restaurant, and then another sighting a few blocks over from there, on Madison Street. But police told the media they weren't completely sure these sightings were credible.
By mid-August, a page dedicated to finding Erica was created on Facebook, and over time people engaged with the page, sharing it to get exposure to try to find Erica, or at least find out where she went or what happened to her.
There's also an article in the local newspaper, where some of our information here comes from. Shannon speaks to the effects Erica's disappearance is having on the family. "It's kind of hard struggling with this everyday. Everyone is lashing out in their own way …. I don't want us to lash out at one another." And this is something we have to remember when we hear about a missing person. Everyone reacts and responds in their own way. We come up with ideas about how to find our person, go out and search, stay and wait by the phone. "The police aren't doing enough." "Shhh, they're doing their job." "She's dead, I know it." "Don't say that to me. We don't know that." "The baby needs lunch." "You need to do it… I've to post flyers." ugh heartbreaking.
In the coming months, Erica's family and friends posted on FB and stood on sidewalks with missing person placards showing Erica's photo, basic information and phone numbers to call if she was recognized. But nothing came of it.
Two years later, in 2018, police get a tip that Erica's remains are in a house in Opelousa… a house she used to live in, but not the house she was living in when she went missing. In fact, it's vacant right now, and all boarded up. They find the tip suspicious enough, though, because it is near one of the areas she was reported to be seen before she disappeared, Police search the home with cadaver dogs, but the dogs don't hit on anything and LE found nothing that connected to Erica.
Interviewed by Dateline in the summer of 2020, Chief McClelland tells us that while there are no suspects in Erica's disappearance, authorities do believe she has been harmed in some way or another. Shantashia us, "It's heartbreaking, but we haven't given up." And still, four years later, signs like the ones that go up every year when Election Day rolls around… like the ones people close to her were walking up and down streets holding just after she went missing….they are now on the front lawns throughout the town.
On March 4th of this year, just a month after the public announcement, Erica's family and the town of Opelousas held a candlelight vigil for her. Erika's aunt Miranda Isaac spoke, saying, "We prayed and we asked God to please bring her home. Now her remains are home. We can give her a proper burial, but now we still need justice for Erica."
At this time, there is no public speculation about how, why or by who Erica was killed. But the LSP is confident that they will find him - or her - eventually. If that's the case though, and we have no suspect DNA… do they think it was someone she knew? Her brother-in-law said when she left his house that day she seemed to have her own mode of transportation, or at least did need him to take her somewhere. Maybe didn't need him knowing who she was going to see when she left his house? If this is the case, who was it?
If anyone has any information about Erica's murder and is finally ready to come forward, you can submit a tip - and it can be anonymous - online at the LSP website. It's LSP.org, and then you're going to follow the link titled "Suspicious Activity." I'll put a link in the show notes to get you there even quicker. http://www.lsp.org/help.html
Closing Tribute, reaffirms our desire to get justice for Erica. Uncle, Tyrone Glover, "It was troubling. A lot of people wanted us to give up. A lot. They just thought she went on a joy ride and wasn't going to come back. Those rumors were just put aside whenever I spoke to Miranda. We just kept hope alive, and Thank God. Thank God they found the remains. Now we can properly put her to rest the right way. The family can have some closure, but it isn't over. It isn't over because somebody did it."
Afterward:
Why are there so few minority cold cases being solved by forensic genealogy? There are many factors.We have to look at the two steps that forensic genealogy needs in order to work. LE action and the size of the Database.
First, LE needs to pick a case and choose to work it thru genealogy.
Why don't they do this? A number of reasons.
White Girl Syndrome leads to lower pressure to solve cold cases involving Blacks and other minorities. If the public only hears about pretty white women's old cases, those are the cases the PD are going to want to solve.

Minorities, especially African-Americans, are distrustful of LE. So if Black families don't trust LE to find their missing loved one or solve their family members murder, they are not going to work as closely with LE. Having an adversarial relationship with the police department will then affect the priority level of that particular cold case.

Then we have a mixture of both. Families who don't set up camp in their police stations don't get their cases to the top of the priority list. And this goes for any race or ancestry. If a detective has five murder cases on his or her desk, he or she is more likely going to spend more time on the case with the father that calls every tuesday morning, as opposed to the case with the family that calls every few months. Also, as much as it is not fair, families with more power, whether financial or political, are going to get more attention to their cases. And those families are more often white.
Now, that's as far as I can go on that front. I am a white lady, half-Mexican, true, but I cannot relate to the kinds of struggles that minorities face, so I'm not even going to try. I have no solutions aside from what we all want. We all want these factors to not matter. Every murder victim deserves justice, and every Doe deserves to be identified; no matter the color of their skin, how fat their family's wallet is, what God they worship, or don't worship, and so on. So we need to speak up. We need to keep the pressure on LE to solve the cases that aren't in the media. They already want to get those solved. But they need to know the ones that the local paper doesn't cover… They are also a priority.
The second step is once we get a case with DNA being extracted to be submitted to GEDmatch, FamilyTree DNA, or Dna Solves, there needs to be profiles for the unknown profile to match up to. After all, we have over 330 million people in this country. How many bloodlines is that? My head hurts. If this person's bloodline is not in the database, the case ain't getting solved. And if it's barely barely there? We've seen the cases with distant relative matches… They are hard cases, and their worked, and we get the answers we need. We do want them when we get them, even if they are the answers we don't want, like in Erica's case. But let's think about it. Do we want to identify that killer, rapist, or Doe in 5 months? Or 5 hours? So we need to make the pool bigger.
We said earlier that GEDmatch is back up to about ¼ million Opt In's. We know that's not enough. And we also know that those are mostly white. Why aren't Blacks, Indigenous Peoples, and other minorities evenly distributed in the genealogy databases?
They don't trust LE. And like I said, I am not the person to try to solve that problem.

They don't know about it. Consider Kern County Jane Doe, episode 20. Her killer's other victim is still a Doe; her family is not in the pool. And it may very well be… because they don't know it exists.
The first step to getting something done is knowing that it can be done. That the process, the action, the whatever, exists. And this, dear listener, is why I'm here. It's why I've been showing up since January.
I'm being very honest here. Sure, I want to make some money doing this, I mean each episode takes anywhere from 8-10 hours to produce and it's not free to get it to your earballs. I love seeing my listeners stats grow, it feels amazing. Listeners that are never going to be convinced to Opt In, please, continue showing up for the story! I'm still working on convincing my own husband to get his DNA done. But I check the Apple app before I pick the case for each episode, and most of these cases really aren't covered. So please, if you're only here for the lesser known murders and somehow you find me loveable, I love you too! Stay with us!
But the real reason this podcast exists….. is because each week…. there could be a new listener, or maybe finally a veteran listener, who says, "I think I'm gonna do it. I'm going to Opt In." And then they do it. Now I don't know if we've gotten that far yet, but I hope so. Or maybe you've told your mom or your friend about forensic genealogy. They don't even listen to TC podcasts, they think we're all weirdos. But, before your conversation, they didn't even know about this stuff…. This whole solving crime with citizen's DNA thing… and then maybe they think about it…. And then they decide to Opt In. I know I've recruited my own mother. And I'm an optimist, so I have to believe I've convinced at least one other person at this point. And between me and you and my mom, LE is that much closer to solving the next case.